IUE-CWA Energy Efficiency Treasure Hunts
Want to save money and save the environment? IUE-CWA can help.
"The level of real savings opportunities (with little or no capital expense) was most impressive, seconded only by the Treasure Hunt team's enthusiasm."
J.P. Davis, General Manager, CG Power Systems USA Inc.
Through a unique partnership with the Environmental Defense Fund (EDF), IUE-CWA has developed a program to teach hourly workers and management how easy it is to identify and implement energy saving opportunities in manufacturing facilities.

Over a three-day workshop, IUE-CWA's experienced local union team leaders will increase awareness and enthusiasm about energy efficiency through powerpoint presentations and hands-on exercises.

Starting on a Sunday, we look at a plant during shutdown and then the next two days in full operation with teams focusing on building systems and the production process. We then work together to develop recommendations on ways to minimize waste and quantify what the savings would be.

Items looked at include:
Building performance, including HVAC systems and lighting
Boiler and steam systems, including considering potential for waste heat recovery and Combined Heat and Power Applications
Air compressor systems
Motors, fans and pump systems
Manufacturing processes, including identifying opportunities to reduce waste
Energy management systems to improve plant efficiency and productivity
"The Treasure Hunt showed us that we can leverage the knowledge and skills of our IUE-CWA workers to uncover additional cost-cutting opportunities."
Matt Jonas, V.P.. Manufactoring Cobasys
Harnessing the knowledge and experience of the workforce is a key factor in making energy projects work. Those who run the machines know best how and where to save money. They just need to become aware of the potential.

When we leave, you will have:
Workers with a new understanding of energy savings potential in their plant
A list of specific projects and detailed solutions that for the most part can be implemented quickly and at low or no cost
A list of other potential projects to investigate
A list of resources to assist in pursuing new energy savings projects
A basis to form an ongoing Energy Team
An Excel spreadsheet that quantifies the cost and savings of projects
The ongoing support of IUE-CWA's Treasure Hunt team, including the ability to involve experts from EDF and 30-year energy efficiency guru Bruce Bremer who devised the Treasure Hunt method at Toyota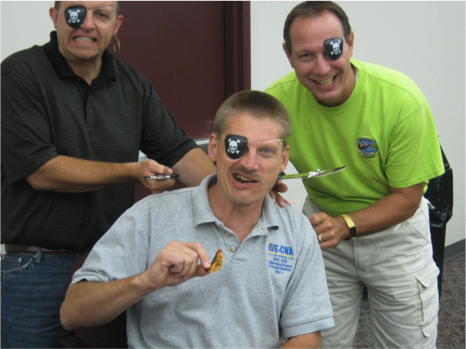 The IUE-CWA Treasure Hunt program has identified annual energy savings ranging from $50,000 to $180,000 at the locations we have visited. All for a three-day workshop provided at no cost to our employers! Wouldn't you like to become more competitive at your facility?

To schedule a workshop or for questions, email Administrative Director Laura Hagan at
lhagan@iue-cwa.org or call 937-298-9984.

Treasure Hunt team members take the name – and project – seriously.
"I really would like to express my appreciation of this project. This is certainly something every company must do."
Eric Frantz, V.P., General Manager, CCL Container